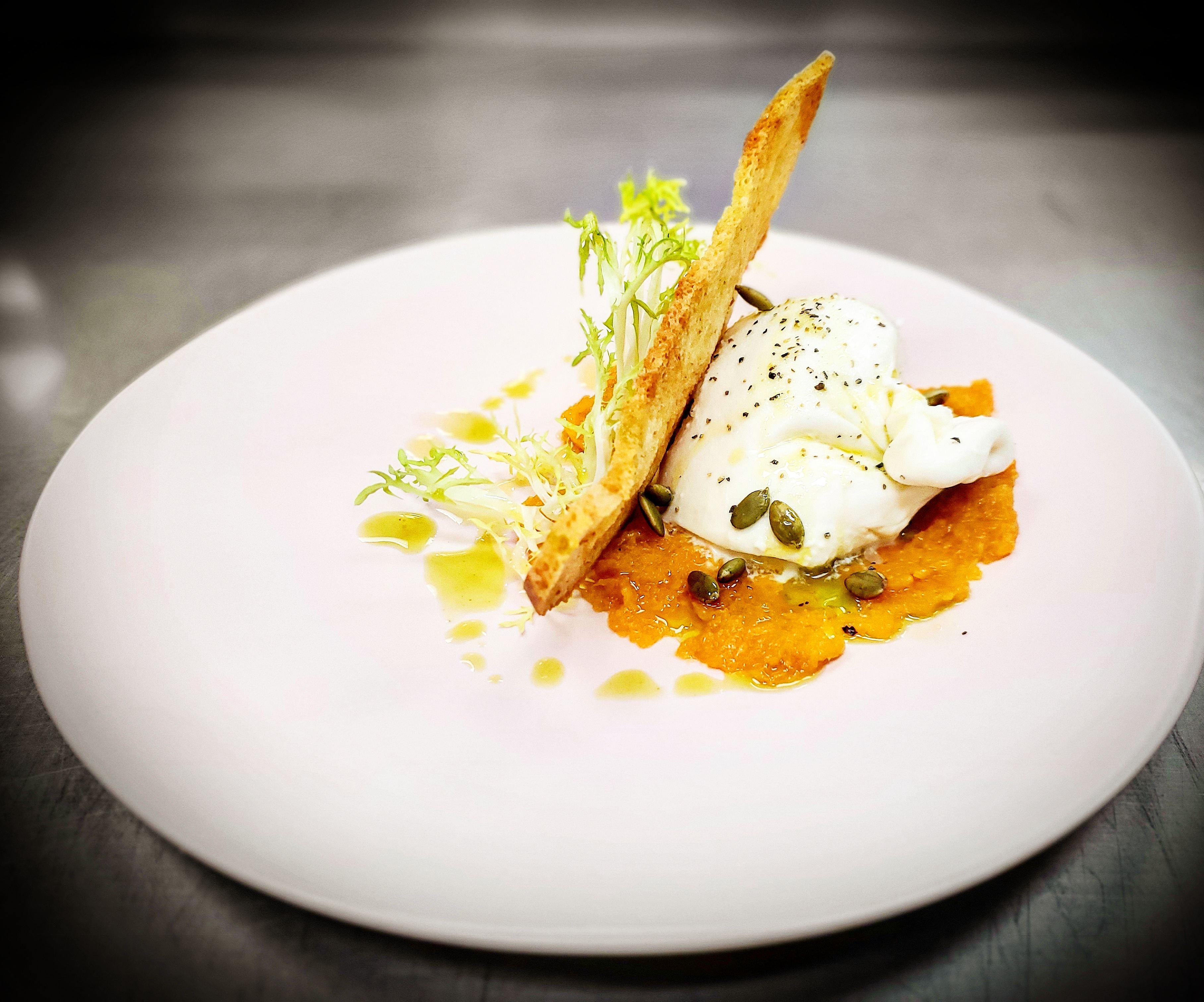 Ingredients – Serves 2:
Grana Padano Cheese – 2 TBSP
Burrata Cheese – 1 Whole Burrata
½ Butternut Squash – De-seeded
Pumpkin Seeds – 50 grams (toasted)
Sourdough Bread – 2 slices (sliced thinly)
Extra virgin Olive oil – 30ml
Frisee – for Garnish
Salt & Pepper – to Taste
Butter – 2TSP
Method:
Pre heat your oven to 450 F.
Trim the ends of the butternut squash and clean out the centre with the seeds.
On a baking sheet lined with parchment paper; place the halved butternut squash on the tray, drizzle with olive oil and season with salt & pepper.
Roast in the oven @ 450 F for 20-30 mins.
Once cooked; leave it to cool for 10mins.
Once cooled, using a spoon; scoop out the flesh and set aside in a bowl.
In the meantime, melt butter in a pan. Add the melted butter and grana Padano and mix well.
In a pan; add the pumpkin seeds & a pinch of salt. Toast the seeds on the stove top & set aside.
Wash and set aside the frisee. Drizzle olive oil on the bread and toast in the oven till golden brown.
Plate-up:
Dollop the puree onto the plate and using the back of the spoon sweep it across the plate in a free flow direction.
Drain the burrata off its water and divide into two.
Place one half of the burrata on top of the puree.
Rest one slice of bread onto the burrata.
Sprinkle frisee as per your discretion.
Top burrata with toasted pumpkin seeds & season burrata with salt & pepper.
Drizzle extra virgin olive oil on plate. Enjoy.