Involvement, Being Green
& Sustainability
Marigolds & Onions continually demonstrates our commitment to the environment and the community through our daily actions. Our goal is to minimize waste and pollution while engaging in the use of local, fresh, seasonal, organic, and passionately cultivated products wherever possible. We believe our continued efforts and behavior will contribute to the sustainability of the environment and the improvement of the community in which we live and work.
A Few Steps We Take To Make This Happen
We at Marigolds and Onions continually support the community in which we work and live. Surplus food is donated to our friends at Second Harvest, the largest food rescue organization in Canada.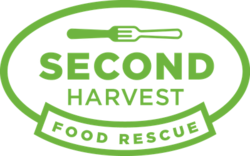 "Second Harvest is the largest food rescue organization in Canada and a global thought leader on food recovery. With a goal to drastically reduce the amount of food wasted while ensuring people have access to the good, healthy food they need for success, Second Harvest works across the supply chain from farmer to retail to capture surplus food before it ends up in the landfill and negatively impacts our environment." (secondharvest.ca)
We are thrilled to have donated approximately 10,000 lbs of our delicious and nutritious food per year since 2003. That's almost as much as an elephant every year!
"No Waste. No Hunger."
A Few Steps We Take To Make This Happen

Strong focus on sourcing ingredients from local suppliers

Selecting manufacturers and distributors who strives for sustainability

All leftover food is donated to our friends at Second Harvest, a local charity

Marigolds & Onions advocates the "blue box" recycling program. Reuse, reduce, recycle is our philosophy

Our paper is certified guaranteeing that it is made from wood products that comes from responsibly managed forests and verified recycled sources

Reuse all folders and hanging files from our event work. For all event filing we have switched to event binders which are reused after each event. For daily catering orders, we have now eliminated 85% of the paper and are striving to make this a 100% paper free process

Marigolds & Onions makes every effort to sell or recycle used equipment at the end of the products life cycle

All staff at Marigolds & Onions use ceramic mugs, and reusable cups for hot and cold beverages consumed during work hours. No paper or Styrofoam allowed!

Deliveries are scheduled by area and time to maximize driving efficiency, and minimize emission of carbon gases. There is a no idling policy with our vehicles.

Our florescent bulbs were retrofitted with more energy efficient ballasts and bulbs. The net result is a savings of 8,852 kW per year

Marigolds & Onions is proud to participate in a savings blitz program provided by Toronto hydro involving retrofitting our florescent light fixtures with more energy bulbs and ballasts
Every effort is made to source our ingredients from local and sustainable suppliers. We also do what we can do minimize our carbon footprint, and promote being socially responsible. We hope you will support our efforts.
– President & Chief Heart Officer