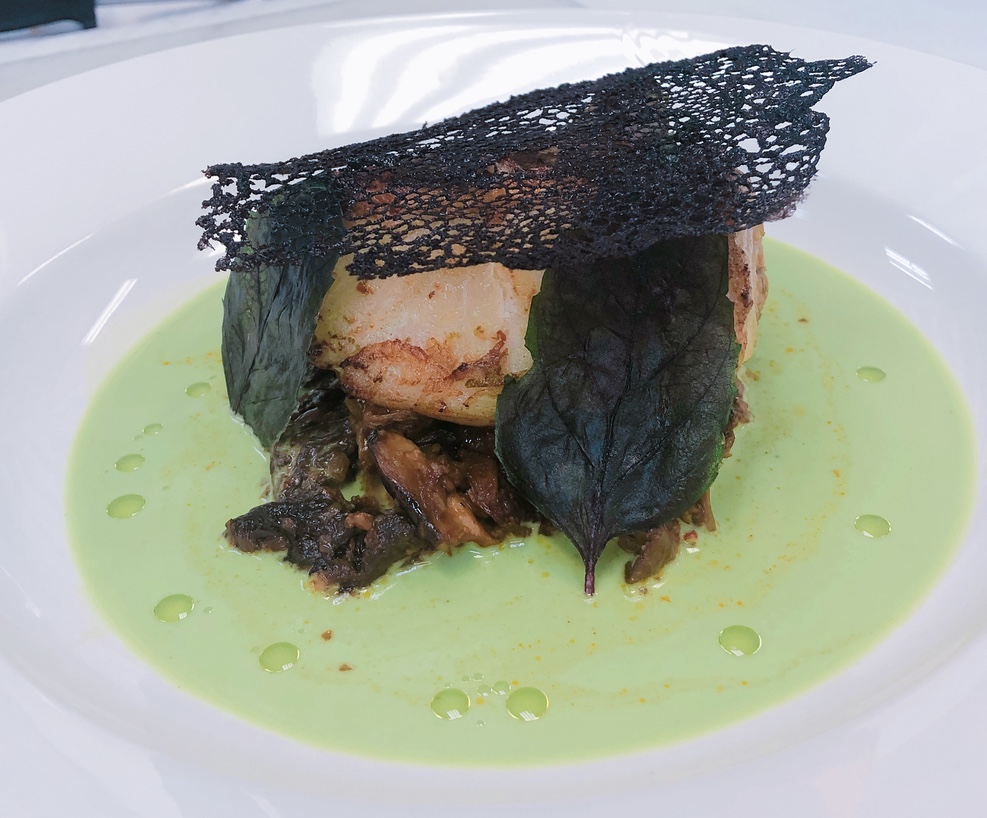 Ingredients:
Sea Bass Fillets – 2
Light Soya Sauce – 2 TBSP
Tamarind Pulp – 1 TSP
Minced Garlic – ¼

  TSP

Minced Ginger – ¼ TSP
Kaffir Lime Leaf – 2
For the Shiitake Mushrooms
Rehydrated Shiitake Mushrooms – 1 Cup
Sambal Olek (Store bought Indonesian chilli paste) – 1 TSP or as spicy as you like it!
Chopped Shallots – 1 Shallot's worth
Minced Garlic – ½ TSP
Salt and Pepper to taste
Sesame Oil – 2 TBSP
For the Gazpacho
Minced Garlic – 1 TSP
Minced Ginger – 1 TSP
White Wine – 20 ML
White Vinegar – 10 ML
Cilantro – ½ Bunch
Coconut Milk – 50 ML
Thai Basil – 6 Leaves
Cayenne Pepper – To taste
Lime Juice – To taste
Salt and Pepper – To taste
Method:
For the Fish:
In a bowl whisk together the soya sauce, tamarind pulp, garlic and ginger. Tear the kaffir lime leaves and rub them between the palm of your hands to release their oils and drop them into the bowl.
Coat the bass fillets thoroughly, cover tight with plastic and allow them to marinate to a maximum of an hour.
Pan sear (skin side down) in a hot pan for 3 minutes. DO NOT TOUCH THE FISH!! Turn over and cook further for another two and a half minutes. Set aside to rest.
For the Mushrooms:
In a wok, add some olive oil and sauté the garlic and shallots together. Cook the shallots and garlic without color. This allows the shallots to release their natural sweetness. Cook around two and a half minutes.
At this stage add in the shitake mushrooms and toss on a high heat and drizzle in the sesame oil and sambal olek. Season to taste.
For the Gazpacho:
Start by sautéing garlic and ginger in some olive oil until its caramelized and golden brown.
Deglaze the pan with white wine along with the vinegar and let it reduce. When reduced, remove from heat and cool.
Add a good handful of cilantro to a blender along with the coconut milk. Add in the ginger and garlic reduction, some Thai basil leaves along with the cayenne pepper and lime juice.
Blend till smooth. TASTE and then season. If you find it on the sour side you can balance the gazpacho by adding palm sugar or honey.
Strain the mix through a fine sieve and then allow to reduce further on the stove.
Plate up
In a pasta bowl, spoon some of the shitake mushroom mix in the middle of the bowl. Pour the gazpacho around the mushrooms to form a pool. Place fish on top and ENJOY!!